Perseverance Fields at Sunset Park
The Plan
Rugby is the fastest growing sport in the United States, with Pennsylvania boasting well-established rugby programs all over the Commonwealth. For over 45 years, Harrisburg Rugby Football Club has been a leader in the development of rugby in Central Pennsylvania.
Harrisburg Rugby Football Club (HRFC) was founded in the fall of 1969, and became incorporated in 2003 as a non-profit organization. The HRFC mission statement is to grow the game of rugby at a grass roots level, and we strive to live that mission.
What started as a single men's club team has grown into a total of seven teams. HRFC is currently made up of four U19 (under 19 years of age) teams: West Shore United Girls, Cumberland Valley Girls, West Shore United Boys, and Dauphin U19 Boys; and three senior teams: Men's, Women's, and H.O.B.O.S. (Harrisburg Old Boys Occasional Side – over 35 years of age) club teams.
Despite having such a large rugby footprint in Central Pennsylvania, during the 45+ year history of HRFC, the club has been a nomadic rugby club – playing in multiple parks and on multiple fields around the Central Pennsylvania region. It is our dream to end our nomadic nature.
Over the next 5 years, Harrisburg Rugby Football Club would like to develop land in Middletown, Pennsylvania – a place to call home.
#HRFCRugbyComplex is a dream, and we need your help to turn that dream into reality!
The Presentation
In late 2017, representatives from Harrisburg Rugby Football Club were invited to the Dauphin County Gaming Advisory Board meeting to make a presentation, telling our story and sharing our vision for the future of rugby in Central Pennsylvania. If you would like to download a pdf of the presentation for yourself or to share with others, CLICK HERE.
We would like to thank DC GAB for the opportunity to make a presentation at their board meeting, and we would like to thank all of the extended Harrisburg Rugby family for their support!
---
Project Status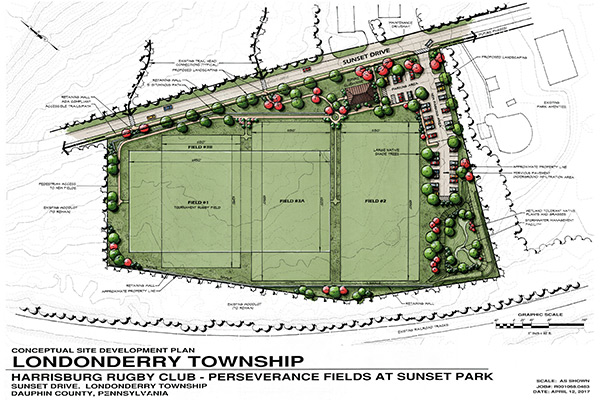 UPDATE: Above is the conceptual site plan for Perseverance Fields at Sunset Park. In this plan, you are able to see field layouts, clubhouse location, parking lot, and other items of note.

---
Below are the preliminary grading plan and updated rendering for the fields provided by Third Mountain Surveying. As you can see, the club is able to develop this plot of land into 2 different field/pitch scenarios. Scenario #1 would have 1 international size rugby pitch and 1 full size pitch. Scenario #2 would lay out 3 smaller sports fields with the potential to be used for practices and/or other underserved sports entities. The parking lot, as shown, has 60 spaces. This will be large enough to accommodate the club and any visiting clubs.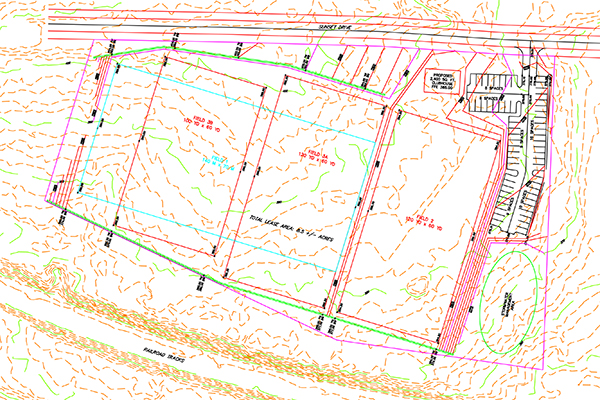 The wheels are in motion and HRFC is one step closer to making the dream of growing the sport of rugby in Central Pennsylvania a reality!
Project Plan
The primary field, in Field/Pitch Scenario #1 will be used exclusively as a match pitch (international size) for the club and is situated furthest from the parking lot. Field 2 will be situated closer to the parking lot and will be mainly used for practices. In Field/Pitch Scenario #2 there will be 3 smaller fields that will be used for club practices, and will also be made available to rent by other local sports clubs, including soccer, rugby, lacrosse and other minority sports entities.
The development plan is aggressive and requires a high amount of capital, but also generates a great potential for return on investment. The plan requires $800,000 – $1 million to be raised in order to be completed. This price includes, land development, and further rugby complex development.
To meet the capital fund raising goal, the club has committed $50,000. The club is also offering the naming rights for the entire complex for a contribution of $100,000. The remaining amount will be generated through tax-deductible charitable donations.
Project Phases
Phase 1 – Construction: The property will undergo grading to level the fields. Retaining walls will be installed. A parking lot will be completed. Top soil and seeding will be applied.
Phase 2 – Operation: In addition to field usage, the club plans to raise money through ongoing field rentals. This will come in the form of practices, games, and tournaments. The club has had preliminary discussions with local organizations, such as Capital Area Soccer Association (CASA) and Harrisburg Young Professionals (HYP), in which they expressed interest in future field rental opportunities.
Phase 3 – The Club House: After stabilizing operations and raising additional cash through donations and/or field rentals, it is the club's intent to install permanent light fixtures and build a clubhouse, complete with changing rooms, showers, and social facilities. The first step is to drill a well for water and install a septic system before the clubhouse can be fully outfitted with facilities. We are looking for talent and skill sets within our club and the community to complete a majority or the work if possible.
---
Donate Today
Please FOLLOW THIS LINK to visit our club's GoFundMe campaign page to learn more about our vision and to make a donation to further our cause. Every donation, no matter what size, is greatly appreciated and will be put to excellent use.
If you would like to set up a recurring donation, please FOLLOW THIS LINK to set up automatic monthly donations.
Thank you for your cooperation, consideration, and generous support!