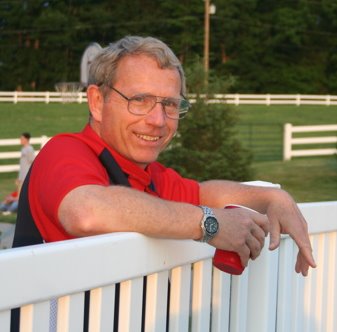 Eulogies
Eulogy for Coach Shade by Tom Wenger
I can picture Dennis at the Pearly Gates waiting to get in
And asking St. Peter "Where's the Guinness.. I thought this was heaven"
Of course he and Pete were already on a first name basis, so it was ok.

Inappropriate?

Well if you've never rolled your eyes at something Dennis said,
You probably didn't know Dennis very well… or don't know how to roll your eyes.
He could be unyieldingly blunt, devilishly coy, as charming as royalty or as sincere as clergy.

Dennis was a wordsmith. He could turn a phrase on a dime.
He could play a pun from time to time.
He could quote songs, especially the Stones or John Prine.
And he'd tell his stories.. with the occasional "da da da" to get him to the next line.
(And yet oftentimes could not talk his way though a simple rugby drill)

That was Dennis.

Dennis was like a wry elf
Not an elf like in The Hobbit
And not like Santa Claus
But yes, maybe somewhere between
Like the jolly man in red Dennis would always come bearing a gift
But his was the gift of rugby
Dennis would give his gift to anyone who wanted it
And surely even to some who didn't
Dennis was a student of rugby like few others,
But he always had time for anyone who wanted to talk about the game…
No matter how novice or pedestrian

Probably more than it was for any of the rest of us…
Rugby was vastly more than a game to Dennis.
He embodied so much of what is good about the sport.
It was his attitude, it was his lifestyle, it was his mistress, it was his life.
It goes right down to the small things he did…like…
Dennis always asked about your wife/girlfriend/family
It wouldn't have been Dennis if he didn't say…
"Say hi to your wife/girlfriend/family for me" before he said goodbye
But he wouldn't say wife/girlfriend/family… He'd call them by name
He knew everyone's name.
I don't know how he did it.
That was just part of his magic.

Whether buying a round of Guinness at the bar,
Or writing to people he met half way around the world
Or bringing flowers for every woman at a banquet,
Dennis was always embracing his rugby family.

His rugby family will miss Dennis dearly
It is said that money makes you wealthy, but friends make you rich
Dennis was a rich rich man
He leaves behind him a tremendous legacy
He leaves behind him a tremendous void

We will miss you Coach.
We will miss you friend.

Dennis would not want us to dwell on his death.
He would want to be remembered as the worldly life-living man he was.

He'd ask that his spirit and the spirit of rugby live in each of us,
Even those of you who have never played before
Because to him…to us… it's so much more than a game.

And finally he'd ask one last time "say hi for me"

Eulogy for Coach Shade by Bob Rhubright
I had to write this down because I'm a sappy person.

You know summing up nineteen years of Dennis Shade is like stuffing a ship into a bottle, but I believe that concise is appropriate…

I mentioned to my brother Wes that I was going to speak… He said one word… Ambassador. That is exactly what Dennis was.

Dennis got me to coach the Lebanon Valley College Women's Rugby team and through Dennis that has changed my whole life for the better. I was told that rugby players don't cry, so if I do, please excuse me. What I've learned in coaching I didn't learn through coaching seminars and coaching clinics… I learned through Dennis.

The other week Denis cut his finger in practice and I could swear I saw Harrisburg blue rushing through his veins. I know there will be some dispute from the Erie rugby club… Okay I saw some Erie black as well in his blood.

Dennis was the backbone of the Harrisburg Rugby Club… I've seen players come and go but Dennis was the constant. Whether there was 6, 16 or 26 players at practice, Dennis had a game plan, and he made it work. To sum up what Dennis meant to me is impossible!!!

Jamie and I were talking and it is unfortunate for the new players coming up because nothing we can say will give justice to Dennis' personality, but hopefully we can carry on a fraction of Dennis' hopes and dreams for the team. We love you Dennis!

Finally, I'm sure Dennis would want me to say this… Since I have all of you Harrisburg rugby players here… Practice is Tuesday at 6:00PM, don't be late!

Dennis will always be missed… but he will never be forgotten!

---
Guest Book
I was lucky enough to be involved with club and Dennis during a time of unprecedented success for Harrisburg Rugby Club. It was tremendous for the players at the time who all came together and played such good rugby to get to the national play-offs in Florida. However, what was even more rewarding was to see the delight and pride on the faces of the club officers. None prouder than Dennis. A true gentleman, an unparalleled love for the game and somebody who had time for everybody. Thinking of you. Mark E Nuttall.

---
When I moved to this area about seven years ago I made it a point to get out on Saturdays to watch rugby. As Harrisburg RFC was the only site at the time posting directions to their field I decided to watch them. Upon arrival I walked down the sideline to stand and watch and was immediately approached by you know who. Denny introduced himself, made me feel like a long lost friend, stayed talking to me about the team on and off during the game and invited me to the after match activities.
I have been to watch many Harrisburg games since, and at each I have spent much time talking to Denny about the team, the practices, the upcoming World Cup, overseas trips and rugby developments in general – it is something I always look forward to – DENNY, YOU WILL BE MISSED!!!
---
It was very hard to see you on Saturday and still can not believe this is real. We did not always see eye to eye, but their never was any doubt that we loved rugby together and we always wanted success for the Harrisburg Rugby Club. I hope we did you proud. I was sitting back reading everything people wrote about you and how everybody responded to your passing. I must say, if I did not hear you, I thought I did. "Sweger, cheese and rice, have some class and then you turned and bought us each a shoot of Jameson, we toasted "to the class Harrisburg Rugby Club demonstrated this past week." I hope we made you proud coach, I hope we made you proud coach, your friend always and fellow rugger forever ……………Sweger
---
Brothers and Sisters in Rugby,
I am stunned and saddened at the news of Denny's passing. I feel like I just lost a friend, teammate, coach, mentor and favorite uncle. I am so thankful that I had the opportunity to have one last beer with Denny on Thursday night at TJ's. We had the chance to talk about the upcoming high school season and we laughed about some of last year's moments. We were both really looking forward to working with the kids again. If I knew it was going to be my last beer with him, I would have taken smaller sips and I would have filled up my glass a few more times.
Dennis really took great joy in working with the high school team because they were not as jaded as us old farts. Rugby was still new and exciting to them and they wanted to learn as much as they could from him (Even if it was a drill that made absolutely no sense when he explained it). I really gained a new appreciation for Dennis the past two years while he helped me with the high school team. I saw a side of Dennis that I didn't always see, or that I neglected to see when I was a player. He always did whatever he could to help out and his passion for the game spread to the high school players he worked with. He was so generous with his time, his money, his rugby tapes, his t-shirts, rugby jerseys and most importantly his knowledge and stories of the great game of rugby. Both the kids and their parents loved Dennis and will miss him dearly.
We are all going to miss Dennis. Rugby was his life and Harrisburg Rugby was his family. I feel like Harrisburg rugby has lost a father and West Shore Rugby has lost a grandfather. It's just not going to be the same without him around.
Thank you Dennis, for all that you gave us and all that you gave to the great game of rugby. Sean Robinson
---
Dennis was a great man and the Harrisburg Rugby coach for the past 13 years. Needless to say a real staple at the Harrisburg fixtures, whether on game day or on any other given day. He lived for rugby, night and day. Every day was a rugby day for Dennis, whether sitting up to watch a game in the middle of the night or on Saturday afternoon kickoffs. He will be missed, as he has touched many lives in the rugby family. Love you Dennis. Larry Sweger
---
I only knew Denny for a little over a year, but in that year I was able to see his zeal and love for rugby and his respect and admiration for those that played the sport. I regret I was unable to play this year so that I could learn more from a man that coached rugby for no other reason than the love of the game. Having known Denny for such a small moment in time and knowing that I will miss him I truly feel for those friends that knew him longer than I did, to you I extend my deepest and sincerest sympathies. Roland Acevedo
---
As with the entire Harrisburg Rugby family, Denny was a huge part of what helped me get through the darkest period of my life. Whether it was a slap on the back or a kick on the ass it was exactly what I needed at the time and he knew it. I'll always appreciate the conversations at the Pep when he gladly and drunkenly taught me the game of rugby. I also always appreciated the way he thought he'd cleverly hid his Spot Dogs at the end of the night when I could grab a few for the road as he waited for his cab and didn't notice. He was an inspiration on the pitch during the B games the way he would keep going and going when all I wanted to quit from exhaustion. He treated me, a fat novice, exactly the same as his best and most experienced players. His love for the game was contagious and he will be missed. My heart goes out to his family and his many friends. Thanks Denny, for everything. Joe Torzewski
---
Yes I did and got to play with him in one of the Old boy games. I am very sorry to hear about that, he was really a good guy. Please send my condolences to the team. Ed Gaffney
---
Gentlemen. Having just learned of the passing of Coach Dennis Shade, on behalf of the Second City Troop Club I want to convey our deepest condolences. It is indeed a truly sad day. Having lost one of our own not too far in the past we understand the sadness and loss that is felt and want to offer any and all help and support that you will need. We pass on our condolences to his family, friends and the entire Harrisburg rugby family. At this time, we will do whatever you wish regarding the scheduled game. Should you wish to postpone we will absolutely respect your wishes. This is your time to grieve Coach's passing and we want to, and will, support you in any way we can. Once again. Our deepest condolences. OnSecondCity Troop. Struan Murray. Head Coach
---
I have had the privilege of knowing Dennis for more than 20 years. Being part of the Muskies and playing rugby with him has been a great experience. It was great to tour with in 87 to New Zealand and 91 to England. Two things stand out among the many memories I have. One was when we met Ian Jones and several All Blacks in the Southern Cross Pub in London. The other was running into a Harrisburg player at the USA game at Dublin in 99 and asking if he knew Dennis Shade. That player's response was "He's standing right over there". I shouldn't have been surprise, but I was. I will miss him but will always the many memories. Jerre Morris California
---
Although I only played for West Shore United for one season, it was easy to see why everybody enjoyed it when Coach Shade was at practice. Whether it was the drills we ran, the interesting way he always explained things, or his funny stories, all of the players enjoyed having Coach Shade in their presence. We all learned alot from him when he came down to coach us and he will be forever missed.-Dan Ball, West Shore United 2006
---
Personally, I first met Denny as a rookie when I started w/ Harrisburg in 1990. He was always willing to give extra encouragement and instruction to the newer guys – a calling I know he continued in his work with the West Shore players. He was the only person who called me "jaybird" and I will miss that. He was so very kind and considerate and always asked me about Nell and the kids. He was a great friend to all of us and he will be deeply missed by his extended rugby family and the Harrisburg community. Farewell Denny. Jay Abom
---
Hi Guys, I'm deeply sadden & hate hearing this news. I got to know Denny on & off the field during my many years of playing rugby. I toured with him & the Harrisburg club in Ireland in 2000. He will be missed. For those of you that didn't know Denny very well. He was tremendous person that loved the rugby way of life. He was the kind of person you would want to go into battle by your side. He was dynamic with the knowledge of the game, places visited & people met. He always had a funny joke to tell. He lived, ate & breathed rugby everyday of his life. His love for the game, years of teaching & commitment is priceless. He has influenced many generations of ruggers in the Harrisburg area for a long time & should be credited. If anyone mentioned the Harrisburg rugby club the name Denny Shade was always one of the first thoughts that one would have. Gentlemen like Denny don't come around to often. My heart & prayers go's out to his family, friends & the Harrisburg rugby club on his passing. We have lost one of the great ruggers of our era. Thank you, Matt Graham
---
I am very sorry to hear about Dennis; he was a great man that I have known since the 1980's back when I started with the Wilkes-Barre RFC. I'll never forget my first real game as a rookie in 1986-87ish, and talking to him for the first time before the A-side match. I can still hear him yelling corrections to me during the b-side game, and even giving me some tips after the game, heck we were playing against his team! He was a true rugger that no matter who he was playing for/against, coaching, cheering on etc,… he was always there to share his knowledge; a truly unselfish rugger willing to share his experience anytime. Dennis was, and will continue to be in our memories, a true promoter of the sport not only in from coaching/teaching since but even more importantly in the spirit, traditions, and camaraderie of the game. We both worked for the state only a few blocks away, and I'm just plain in shock at the loss of a great rugger, and more so a great friend. Although he has passed on I still have to smile, because I'll still miss him calling me "Bob". My prayers and condolences go out to his family, Harrisburg RFC, and the entire Rugby Community. Wild Bill Mumaw, Old Gaelic RFC -Old Boy
---
Coach Shade was probably one of the most unique individuals we have ever met. He had the rare combination of spirit, sense of humor, and plain old common sense and was a tremendous role model for my sons. His smile was infectious and his love for rugby was unmatched. He will be dearly missed and the sidelines this season will not be the same. However, I truly believe that if the kids fail to perform he'll somehow find a way to "kick them in the butt". Respectfully and Remorsefully, The Dill Family
---
Dennis Shade was a coach and a mentor, a teammate and a friend. He loved rugby and he loved this club. They were his life. We, as individuals and as a club, honor and remember that life and how important Dennis was to us. May each of us receive the same remembrance when our time comes. Jim Dopkin
---
I just came from Dennis' parents house and spent some time with his family. They are extremely grateful for everything that you have done to help them out. I too would like to thank you for everything that you have done to keep us informed and updated, as well as what you have done to help his family.
Greg, I can also put up at least three or four guys at my home, and my son Josh has room for two or three guys. Marty Dale's brother (who was the rugby player) has enough points to offer up a couple of rooms at two of the local hotels. He has offered them up as well, and may take someone in his families home as well. There is no reason for any of your guys to pay for hotels unless that is their preference. I will be looking for others at practice tomorrow, and don't foresee a problem getting some more guys to offer up their homes to you guys. If you have some guys that cannot come due to the cost, please tell them not to worry about it. They can have a bed/couch to sleep on and food taken care of. They just need to get here.
On a rugby note, Erie does have a home game Saturday. If your boys are interested we would like to put together a 'B' game with the Harrisburg club and the Erie Club. We can either do it against each other or mix it up. We felt it would be a fitting memorial to Dennis to have both of his 'home' clubs get together. You are also more than welcome to join us for our social, whether or not we put together a match.
All the best Greg, and thank you again for everything. Jack Jaeger
---
A win against Carlisle was probably a great way to finish his rugby career. Our thoughts will be with you all at the funeral. Immensely saddened, Steve Foster and Janette
---
Men of Harrisburg RFC: We would like to offer our deepest condolences to the family, and to your club, on the untimely passing of your coach Dennis Shade. I know many of our guys knew Dennis from our seasonal matches and some from just being involved in the EPRU Rugby community. I did not know him personally, but have heard nothing but good things about him in the last day or so as the sad news started to trickle in and our players have touched base. Please know that the families, and those who knew him well, are all in our thoughts and prayers. He will be missed. On behalf of White Horse RFC, please accept our deepest sympathy during this stressful and sad time. Sincerely, Lee A. Benjamin President WHRFC
---
Dennis thanks for always making us feel special and important!! You will be sadly missed, Love Donna Jo and ALL of the rugby wives, girlfriends and significant others
---
Dennis was special to us; he will always be in our hearts and memories. Sincerely, the Ball Family Greg, Donna Jo, Amelia and Donovon
---
I am so sorry to hear about this. Dennis was a good man and loved you all for your spirit and enthusiasm for rugby and life. He will be missed. Gennifer Ball Odessa Design, Inc.
---
In light of the events that occurred this weekend to a very close and well liked member, I would like to work with the Rugby team and our members to put together some sort of Memorial here at c5. I have been in contact with the home office about putting something together, and they are 100% in agreement. My thought is an event with the evening instructors to help raise money for a charity that Dennis would have liked to contribute to. Please share with me any and all ideas you may have, and we will do what we can. I hope that we each take away some realization of the fragility and preciousness of life. Things like this remind us all just how close we are. Let us not lose sight of what truly matters in life?and it is not empty toilet paper dispensers or dirty carpet. It is the relationships we build with our fellow humans, and the time we spend with each other. Life is like a game of cards. The hand that is dealt you represents determinism; the way you play it is free will. Jawaharal Nehru Joe Kleha General Manager c5 Fitness
---
I just got the email from Jim Hegarty re. Dennis. What a shock. I have known Dennis for 25+ years going back to when he played for Erie. Dennis was one of those people who is immediately your friend. It is a great loss. Marshall Sturm Blackthorn Rugby
---
It is truly a sad day for Harrisburg Rugby. I never played a match with Dennis but I shared a few beers and plenty of laughs. He was always easy to talk to and always entertaining. I have a suggestion for the board. Perhaps space could be made on our website for all deceased Harrisburg ruggers, a permanent memorial to the fallen few so that we may never forget them (not that we would). I know of Chris Ambrogi, but there may be more. This may be a fitting tribute to all who have helped our club survive all these years. Yours in Rugby, Randy Leonard
---
Let me express the condolences of the EPRU and my personal sadness about Dennis's passing. Dennis and I had exchanged a variety of rugby emails over the years and I always had the greatest respect for him. To say he will be missed is an understatement. Steve Cohen President, EPRU
---
When our coach Struan Murray sent me the note about Dennis?s passing, I didn't immediately match the name and the face, but as soon as I saw his picture on your web site I remembered him from 20 years of playing Harrisburg out there and in Bryn Mawr, and from chatting with him at our Bryn Mawr Cup tournaments. It's always hard to lose a friend, it's harder to lose a rugger, and it's harder still to lose a rugger that was part of the game and part of your club for such as long time. Compared to a lot of guys, my 20 years seems like a long time in this sport, but Dennis? 36 demonstrate a love of the game that few will ever know, and his 20 with Harrisburg RFC say an awful lot about your club. Every club needs a Dennis or two, but not every club is fortunate enough to have even one. I'm sorry for your loss. I hope you all will have a happy memory that among Dennis's last moments were sharing in you victory over Old Gaelic. Harrisburg RFC was very fortunate to have a man like Dennis as part of the club. Picking up on Sean's theme, my next rugby beer will be in Dennis's honor. Jim Hegarty – – Reluctantly known in rugby life as Turtle (neck) – – SecondCity Troop RFC
---
We were all very sad to hear the news of Dennis's passing. The news affected us very hard as Dennis had a tremendous impact on the entire Penn State Rugby family in countless ways, for a very long time. In fact it was one of Dennis's former players, who now plays for us, who informed our team at practice last night. The entire Pennsylvania State Rugby Football Program wishes to extend our Deepest Sympathies to the Family, Friends, Players, and Teammates of Dennis Shade (wow what a long a wonderful list that must be!!) We have all lost a great friend and tireless supporter of us, and the game we love.. He will be missed by all of us. Respectfully Don Ferrell C/O Penn State Rugby
---
I received the news of Shade's passing and forwarded it to the rest of my team. We are very sorry to hear it. If you feel it is appropriate, please let me know of any funeral arrangements and I will relay them. Thank you, Frank Lentz, President, Old Gaelic Rugby
---
I'm so sorry to hear about Dennis. Prayers are on the way to family and the Harrisburg Rugby Club. If there is anything we can do, let us know. Jerry Gould Old Gaelic Rugby
---
Thank you passing that along. I had just talked with him last week about meeting him for the first time on the pitch. It would have been a great experience as he and my father Jack Jaeger played together for many years and were very good friends. Dennis was close with my whole family, much like an uncle to my bothers and I. That said, this comes as shock and tragedy to myself and my family as we have just lost a family member. As such, I'm fairly speechless at the moment. Please keep me updated on more info as it becomes available. I'll pass the news on to the Erie RFC. Josh Jeager Erie RFC
---
Thanks to Greg Ball and Matt Graham on the heartfelt reflections on our brother in rugby, Dennis Shade. I knew this fine man for many years. He gave back to rugby so much more than he ever took from the game. As a player, he made the most of his God-given abilities. As a coach, he was a worthy adversary who always showed class, win or lose. I saw him this past Saturday, little dreaming it would be our last meeting on Earth. His concern was having a "B" game, so that a handful of extra players could see action on the pitch. Fittingly, his club gave him a final sendoff that was one for the ages, scoring two tries in the final 12 minutes for a scintillating 21-17 victory over arch-rival Old Gaelic. Let us all dedicate the remainder of this season to this wonderful ambassador for rugby. He may be recruiting new players, even as you read this missive. Deepest condolences go out to family, friends and teammates. Denny, we will remember you! God Bless, Jeff Cook, Old Gaelic
---
Dennis was the man who influenced me to go into sports and later teach & coach. I loved Denny as a friend, as a cousin, and for what he helped make me as a person. I will miss his laughter and humor (won't we all?). Denny LIVED life, he didn't watch it go by. I think two "poems" personify Denny in my mind, and I will leave them here. Thank you all for being good friends of Coach Shade. With sadness and mourning, but with gratitude for Dennis Shade's life, and am sincerely yours, Tom Shade
---
Gentlemen: The Wilkes-Barre Rugby Club sends its deepest condolences regarding the loss of Dennis. He was a great man both on and off the pitch. Dennis will be remembered not only for his personality but for the many lives he has influenced throughout the years. He was a man who enjoyed life and always stood true to his beliefs. Mark T. Barry Wilkes-Barre Rugby Club
---
Dear Coach, thank you for introducing me to the great game of rugby. You will be greatly missed but forever in my heart. Rest well coach. Bob Gaus
---
It's times like this that turn 15+ years into what seems to be an instant in time. I can't even believe it's been that long that I have considered Dennis a friend. It's gone by so fast. It speaks to Denny's nature that he was a prominent part of the landscape for those 15+ years. From the practices to the games to the parties to the "How's the kids doing?" to Christmas cards…I could go on and on…his humor, dedication, passion & love came through in every thing he did. To have that suddenly and unexpectedly snatched away from us hurts and leaves us all to fill the void but cherish the memories. And I do cherish them.
My kids cried when I told them. I cried with them. Denny was part of their life too. My brother is right, he was truly a favorite uncle. I'm glad I could share a pint in Ireland with him, and introduce him to my family there, and I'm glad to have shared plenty of other big moments with Denny. But just as much, I'll miss him popping out a few Guinness pub draught cans or the pints he just bought at the bar (more times than I can remember) on any given non-eventful day or night to share with those he considered friends. Those moments were maybe not "big" moments at the time, but they sure are now. I'll miss you Denny, but I know I can count on you to have a Guinness waiting when we meet again. God bless and thank you for touching our lives. Ed, Theresa, Maura, Caitanne, Jennifer and Patrick Robinson
---
Whenever I was in Harrisburg or Harrisburg was in town. I always looked forward to seeing Dennis. I enjoyed hearing his stories and having a beer with him. Reffing a Harrisburg game just will not be the same. My Condolences. Reno Pesaresi Lehigh Valley Rugby Club East Penn Rugby Referee's society
---
As I sit here, knowing our club just lost the foundation, the man that we all could count on being there every Tuesday, Thursday and Saturday……. way before any players would show up for practice just to make sure the field was set for the nights practice…… I realize in great shock that I had my last time on earth with Dennis this past Saturday, October 14, 2006 at TJ's after that gratifying win over Carlisle. He was truly proud of his team and as our coach to chalk that one up – you could see it in his smile. Personally, I'm tearing up as I reflect on memories of Coach Shade and assuredly like most of us, it simply hasn't set in on me that the man that coached, entertained, corrected and drank with me for the past 13 years of my rugby career will simply not be around
Although, it brings a smile to my face realizing our club and Dennis' family has given heaven something to brighten it up even more.
Undeniably, Dennis loved the sport of rugby but in my opinion more important to him than the sport where the friendships he established through rugby in the local area and around the globe, in fact recall his saying "rugby is a ball – pass it on" he did a great job at passing it on everywhere he visited. I get a little chuckle and a tear in my eye knowing we will not physically see him again….but I can hear that saying clearly, "rugby is a ball – pass it on".
Not only was Dennis a man of the sport, he had other outstanding attributes, he was a great cook, I use to drop-in on him Sundays (typically after that long rugby Saturday and always unannounced but he always welcomed me, "What's up Jo Jo?") just to say hello but we often ended up tossing cooking ideas back and forth, he always managed to out spice me with either the fresh minced garlic (that he plucked from this backyard) or peppers, that mixture of sweet and green peppers (he loved peppers). He amazed me with his insight and ability to conjure up a tasteful dish from leftovers. His latest was sausage cabbage casserole or something like that……I almost remember the recipe. I am positive there was cabbage, sausage and a whole lot of Dennis' special touch to the dish.
He also love music, you could always catch a song reference from Dennis, if you where quick witted like him. I remember Greg Ball, Tom Wenger, Jamie Forbes, Dennis and I went to a John Prine concert years ago (yes besides the Rolling Stones, Dennis liked John Prine). Dennis kept yelling for a song he loved "Your Flag Decal Won't Get You Into Heaven Anymore", John Prine began to singing this song and for some reason or another I believe he knew the gentleman yelling from the crowd REALLY wanted to hear that song……ha…..we had a great night! A few Guinness before hand made it all the better. Anyway, the following are lyrics we all sung along to that night at the concert; the song is "Please Don't Bury Me":
Please don't bury me,
Down in that cold cold ground,
No, I'd druther have "em" cut me up,
And pass me all around,
Throw my brain in a hurricane,
And the blind can have my eyes,
And the deaf can take both of my ears,
If they don't mind the size,
Give my stomach to Milwaukee,
If they run out of beer,
Put my socks in a cedar box,
Just get "em" out of here,
Venus de Milo can have my arms,
Look out! I've got your nose,
Sell my heart to the junkman,
And give my love to Rose,
Give my feet to the footloose,
Careless, fancy free,
Give my knees to the needy,
Don't pull that stuff on me,
Hand me down my walking cane,
It's a sin to tell a lie,
Send my mouth way down south,
And kiss my ass goodbye,
For some reason it is just fitting, Dennis loved John Prine's lyrics, he loved the wit behind them. I am smiling now just imagining Shade singing along that night having a great time, just simply enjoying his friends and music.
I recall that famous trip to North Carolina, that is several girlfriends ago for me, but Shade, me and the girl I was dating hung out on Tom Wenger's porch late at night drinking them down, enjoying the ocean air and just singing, making up lyrics and laughing, he had a wit, charm and humor that is unmatchable especially that night, he could of out sung John Prine himself.
Let me leave this thought as is – although as hard as it is – it is best to reflect and remember with a smile, I'm pretty positive that is how our coach – Coach Shade would like to look down on us in our lives.
Thanks for being in my life and for being Harrisburg Rugby. Missing you already and the infamous New Years party is months away…..
Love you Dennis, keep an eye on our club – Joe Pavucsko
---
There was never any doubt that Dennis Shade's passion in life was rugby. In every way possible, he lived for the game and the fraternal brotherhood that it creates. I will always consider myself honored to have been able to learn the game from a man who never stopped sharing his love of the sport. Harrisburg Rugby has been lucky to have Dennis Shade's influence and passion on the pitch, but even more to have his "smiling countenance" off the pitch. J. Cole Rinck
---
Dennis Shade was a great man. Dennis was a very caring man and had a heart for everyone and a passion for rugby. Dennis taught me a lot about rugby and life and about teamwork. I have grown to love this game of rugby over the years in part to the passion of Dennis and the passions he shared with others. I very much respected Dennis because he was always there at every practice and every game. Regardless of conditions. which was amazing. Just the other day he was giving me some pointers for on the field to improve my game. I always enjoyed drinking a beer after the game and joking and talking about life. Last week, on Saturday, he was so happy after the game and said that it was a great day and he was proud of us and just got this big smile. I will remember that the rest of my days. I hope to someday carry the same passion and heart that Dennis had for the game of rugby and life. I will forever miss you Dennis. JOHN RUTT
---
Several scores and around 20 years ago today is when I first started playing rugby for Harrisburg and when I first had the opportunity to meet Mr. Dennis Shade. Wade Edris was coach and Dennis was the assistant coach and coach of the forwards and always a player. It was a time when I knew little about how to play the game and had nothing but my instincts and athleticism to guide me on the field of play. Dennis always knew how the game was supposed to be played and he always fed me instructions and information on how to improve as a rugby player. I was stubborn and didn't always hear him and didn't always like his approach because I was young and stupid (nothing's changed much except that I'm older and stupid now) but I did pick up quite a bit from him at that time and I would've been a much improved player sooner if I had just stopped to listen a little more often to his instruction even to this day. I learned a lot about the game from Dennis himself and from watching Six Nations and World Cup tapes that he would always bring to the bar after practice and loan to me. He always believed in the "Spirit of the Game" and when I first read that plaque that he'd made with those words of wisdom on it, from that day forward I always tried to play by that same spirit expressed in those words on that plaque and I would stop to read it every time I saw it and when someone wanted to know why I play the game I would just point to that plaque or show them those words and that was all I needed them to know. I know all thru his time as head coach he was never completely satisfied with our level of play because he knew we could be better but he was always proud of us when we played hard and played smart or as he would say for me as a back, as smart as I was capable, which usually wasn't very.
'Back in the day' when we went to Orlando for our big tournament and lost in the championship game, I remember going to some Jungle Jim's bar with Denny and everybody else and drinking some drink that they said would make you invisible after you had three of them. God knows we tried it a few times over just to see if would happen, not to drown out any sorrows about losing we just thought it might really come true and the more we drank the more we believed!! From now on Dennis will always be invisible to us as we knew him going forward but his spirit and sense of humor we must carry with us from this day forward whether on the rugby field or in the game of life.
So let's raise a Guinness for a toast and crank up a Stones tune or twelve on the jukebox and 'run 20 red lights in his honor', just don't forget to buy one for Denny because you can be sure that he already would have bought one for you!
A eulogy by Robert Hunter (songwriter & poet) to a friend of his which I've quoted and paraphrased here:
"Every soul owes life a death.
Between each heartbeat is a moment
within which the pulse is still.
In the longer beat between life and death
a man was here we called a friend,
a coach, a brother, an uncle and a son.
He is us and we are him,
his death is ours, our lives are his.
Some will pray, some just remember.
Those who pray, having prayed,
will go on to pray for others.
Those who remember,
having remembered for awhile,
will in the course of time forget,
more so as the years dissolve.
This is as it should be
lest death overstep its bounds
and impinge too much on life."
Dennis Shade was a good man and a very decent human being. He will be remembered by each of us in our own way. I shared many, many good laughs and good times with him and therefore when I think of him I can always smile and every time I play rugby or hear a Rolling Stones tune playing I'll think of Dennis. I think that's how he'd liked to be remembered, I know that's how he will be remembered by me.
Various Rugby Quotes that I picked out that I feel embodies Dennis' spirit for the game and for life. I'll start with a quote from Dennis:
"Rugby is an international fraternity and more than a game, it's a way of life. My advice to all rugby people is to get fit, get serious about the game and travel and meet other rugby people. There is plenty of time to get old, so travel and spread the word that rugby union is a ball…pass it on!" Dennis Shade from his bio.
"In our country, true teams rarely exist . . . social barriers and personal ambitions have reduced athletes to dissolute cliques or individuals thrown together for mutual profit . . . Yet these rugby players with their muddied, cracked bodies, are struggling to hold onto a sense of humanity that we in America have lost and are unlikely to regain. The game may only be to move a ball forward on a dirt field, but the task can be accomplished with an unshackled joy and its memories will be a permanent delight. The women and men who play on that rugby field are more alive than too many of us will ever be. The foolish emptiness we think we perceive in their existence is only our own." – Victor Cahn
"Rugby is great. The players don't wear helmets or padding; they just beat the living daylights out of each other and then go for a beer. I love that." Joe Theisman
"In my time playing rugby, I've blown my knees out, broken my jaw, had my nose smashed, a rib broken, lost a few teeth, and ricked my back; but as soon as I get a bit of bad luck I'm going to quit the game." – J.W. Robinson …and I think in many ways that goes for the rest of us too!!
"The only trophy we won this day was the blood and sweat we left on the pitch…and it was enough."
"The whole point of rugby is that it is, first and foremost, a state of mind, a spirit."
Long live Dennis Shade and his spirit for the game and life. Bill Bennett
---
What an absolute shock to hear about Dennis as I only mailed with him Thursday of last week , as usual asking how my dad ( Butch ) was and NTRFC in general , as always the guy lived and breathed rugby , as we always said when he stayed at my dad's he was an honorary Welshman . I have met a lot of rugby acquaintances in all my years of touring, but Dennis was a friend. If there is anything I can do please don't hesitate to contact me .Mike Winstone New Tredegar RFC Friends thru rugby, friends for life …
---
And in the end, it's not the years in your life that count. It's the life in your years."
Dennis packed a lot of life in the too short time he was with us. His smile and wit and love of the greatest game in the world will endear him to our memories forever. Thank you Dennis, for the gift of your life, which has touched so many, in so many ways. Love Harry and Kris
---
I was saddened to hear of Dennis's passing. Great rugby men and friends like Dennis are few and far between. My sympathies to his friends, family, and teammates. Joseph Cap Lancaster Roses RFC
---
Dennis will truly be missed by everyone that knew him. Our thoughts are with his family and friends. Scott Avery (Carlisle, PA)
---
Our deepest sympathies to Dennis' family and friends. He will sadly be missed but never forgotten. Dennis was able to touch everyone he met from the first second he met them. We know he'll always be watching over us. John, Amy, Tanner, and Matthew Bayhurst (Erie, PA )
---
I knew Dennis for many years, working at the Dept.of Ag in Harrisburg, he was a wonderful person to know and have as a friend he always had a great big smile and something funny to say, I know that he will be missed by many people. I am sure he will always be in the hearts of everyone that really got to know him, he was a one of a kind person, and I am glad that I was one of the fortunate people who got to know Dennis and did for many years. Mark Challenger (Williamstown, PA)
---
FAREWELL TO THE SINGING CHEMIST
Having had the pleasure of working with Dennis at the PA Dept. of Agriculture for the past 20 years, I'd say I knew him pretty well. Dennis would often be found singing at the top of his lungs while working in his chemistry laboratory. One of Dennis' other habits was to write little ditties, so Dennis, here's one just for you.
It isn't too often you meet someone like Dennis Shade.
He loved to cheer others up and he wasn't afraid-
To tell a bad joke, or
to sing off key,
I'm certain most of you would agree!
From the East to the West Dennis was known to all!
He was a rugby player extraordinaire, who played with passion and flair.
And the ladies, they loved him!
He treated them well,
he'd shower them with flowers but he'd never tell.
The halls will be quiet at Ag without you.
You'll be missed not forgotten,
and I bid you adieu.
Tony Russo (Enola, PA )
---
My deepest sympathy to the family of a great man, mentor, and friend. Dennis' love for the game of rugby was an inspiration to us all. David and Rachel Schroeck (Erie, PA )
---
Dear Mr. and Mrs. Shade,
I'm very sorry to hear of the loss of your son. May you find comfort from the One who created us all. Greg Lorei (Hummelstown, PA)
---
Jean and I met Dennis at TJ's in Steelton. He and the Rugby teams sort of adopted us. We got a kick out of his corny jokes, and admired how he took time to explain Rugby to us. We will miss him very deeply, and he is in our prayers. Bill & Jean Brigham (Steelton, PA)
---
Hi My name is Steven McCutcheon and Michele Myers and we worked out with Dennis at C5 Fitness he was a good hearted person. We will miss him. My thoughts and prayers are with him and his family. Steven McCutcheon (Harrisburg, PA)
---
Over the course of 20 years, I knew Dennis first as a teammate, then as a coach, then as a fellow administrator, and finally as a fellow coach. Dennis' best role whatever the relationship was always as a friend. He had and unerring sense of interest, support, and concern. His passion for Rugby was equaled only by his passion for people. Yvonne and I feel fortunate to have had the opportunity to learn from, work with, and enjoy Dennis. We will miss him greatly. Tony & Yvonne Trost (Harrisburg, PA )
---
Dennis was a great person to see at C5. He was always friendly and nice. He was kind to everyone. Craig Bartlett (Harrisburg, PA)
---
Dennis…What can we say but thank you! You were are man who always inspired us to live life to its fullest. You were a man who loved life and could wait to see another day. This is my poem to you my friend.
"THE MAN WE CALL SHADE" You were a father…you were a friend, you coached us to the bitter end. When times got rough you were there and always gave us another cheer. Throughout our days of rugby strife, you taught us that there was more to life. We raise a pint to you our friend for soon we shall meet with you again. You are the man we call SHADE make no stake about, we will miss you dearly there is no doubt about it. Rest in peace… Annetta and Butch Comstock (New Cumberland, PA)
---
There is another rugby angel watching over the rest of us now. A good man is gone, but many more are better off for having known this special friend. Sympathies to the entire Shade family. Pete Barry (Erie RFC)
---
Coach Shade was one of the founding fathers of my team West Shore United Rugby Club…He taught me many things about the game of rugby. He had a great knowledge of the sport that really helped us become the team we are today….he was a great man…he could always put a smile on the faces of those around him…he will be missed deeply Thomas Donadee (Lewisberry, PA)
---
I recall the many times that Dennis attended any clinic that was offered and was insatiable for any "nugget" to help his team. He also made sure to promote his club(s) to the other attendees with supplies of promos. Imagine if we had a few thousand Dennis's across the country! Thanks to Dennis: he will be missed by many. Ray Cornbill (New York, NY)
---
Thank's for sharing the joy of Rugby to our son's, you will be missed…… Jerry and Virginia Wagner (Duncannon, PA)
---
DENNIS YOUR SPIRIT AND YOUR MEMORY WILL LIVE FOREVER. YOU WERE ONE OF A KIND AND WILL NEVER BE FORGOTTEN. JOHN BILETNIKOFF (FAIRFIELD, CA)
---
My deepest sympathies to Dennis' family and friends. What a shock to learn of his passing. My prayers are with you during this most difficult time.
I was lucky enough to get to know Dennis over the past three years at C5 Fitness. I had the pleasure of his company on Tues. and Thurs. at 4:45am for SPIN! I can honestly say I never saw Dennis in a bad mood and he was always so friendly with "everyone". Not a mean bone in his body. He liked to joke and tease, but that was Dennis and ya had to love him for it.
I will miss his smile and silly jokes that made me laugh in spite of how bad they were. May you be at peace, Dennis. You will be greatly missed. Wicked WandaWanda Carricato (Harrisburg, PA )
---
Dear Mr. and Mrs. Shade, Carolyn, Diane, Eileen and Annette and all their families,
The hardest thing about growing up on East Lake Road together, was that we had to ask permission to cross the street to play. Our parents kept close eyes on all of us, and we respected everyone's parents as our own. When we would ask if Dennis could come "up" to our house, he would always respond, "What comes up, must come down". He was so witty and charming even in grade school. I suppose having all those sisters made him a "gentleman" even to me. When my brothers would not let me play football behind the barn with them, Dennis would always give me a shot, chuckling under his breath, knowing I wouldn't last anyhow.
He was super to my mom always. They had a special bond. Even when she wasn't feeling well he would know just the right thing to say to make her laugh. I'm sure mom is waiting at the gates right now to invite him in and have great knee-slapping chuckles.
He was our Santa on Christmas Eve many many times. After awhile, our kids would figure out, "Aww, it's just Uncle Dennis!" But he had a great comeback, to make even the adults wonder if it really was him under that suit!
He had a "way with words" that will never be forgotten. God must of needed someone up in Heaven to cheer up the angels who have been watching over us. God has taken him under His arms and has no choice but to learn the great game of rugby from the best. The next roar of thunder will be the Greatest Rugby Game of Heaven going on with Dennis as the "Star" Coach.
God Bless You Dennis, and his entire family and friends.
Harry and Barb (Dale) Blount, Sharon, Jimmy, Jeffrey and Jenna Doud (North East, PA)
---
I want to express my sincere condolences to Coach Shade's family, friends and his Harrisburg Rugby team. Every time I would go to watch Grant play, Dennis would always take the time to ask how the family was doing and show interest in my answer. That was the case this past Saturday when I watched the team beat Carlisle. What a happy group of players that day. Marysue and I will certainly miss his presence on the side lines at future games. Dwight Walter (Selinsgrove, PA )
---
I knew Dennis from the gym- and especially spinning classes. Dennis was a great man- it would take to long to describe how thoughtful he really was. My prayers and thoughts are with the family. Elizabeth Kotzmoyer (Harrisburg, PA)
---
I would like to express my condolences to Dennis? family and his many many fiends. Even though I have great sorrow in my heart, I feel extremely privileged to have known him and called him a friend for the past 14 years. He is now in heaven telling stories and singing songs. Jim Shippling (Erie, PA)
---
Dennis,
I remember as a kid hanging out at your parents pool while you and my parents hung out. I also remember watching you guys play rugby when I was little. Once I got a bit older, I even had the pleasure of playing a few games with you. We just talked on Friday about the upcoming muskies tour and the 12th annual Mad Anthony's tourney. I can't even begin to tell you how much you've meant to my family, myself, and the entire rugby community. You will live on in our hearts…and I am sure you will be with us on every future Rugby day, as every day was a rugby day for you. Good bye old friend. Jeremy Jaeger (Erie, PA)
---
May God bless you and your family in this time of sorrow. Judith Wright (Harrisburg, PA)
---
These are Denny's last words to me on 10/13/06…"So you too are a rugby bum now. doesn't pay much, but it is a pretty good life. I just wish I could remember more of it! Lift a glass to me tomorrow and I shall respond in kind for all the folks in Jaegerworld!!!" You got it brutha…Miss you man! Josh Jaeger (Erie, PA )
---
I knew Dennis from C5 Fitness Center in Harrisburg. We became good friends, I will never forget Dennis. My thoughts and prayers go out to Dennis and his family. Michele Myers (Harrisburg, PA)
---
Andy and Jennifer Sweger (Owings Mills, MD)
---
Dennis was like an uncle to me…the embodiment of all things positive about rugby, about life. I'm gonna miss you bud! Joshua Jaeger (Erie, PA)
---
I would like to extend my deepest sympathy to Dennis' family, as well as to all of his friends with whom I share a deep sense of loss. Dennis was one of the kindest and most generous people that I had the pleasure and privilege of knowing. His wit, his storytelling, his commitment to Rugby, and his friendship will be deeply missed. "…as I look down from my heavenly home, I pity the rugger a ruckin my bones" Dennis, you will forever hold a special place in my heart. Jack Jaeger (Erie, PA )
---
My deepest condolences to Dennis' family. I got to know him through the Harrisburg Rugby Club and he coached both of my sons. He was there for our family when my husband died. Again, my deepest sympathy. Mary Kern (Lebanon, PA)
---
Dennis and I shared a unique relationship that will truly be missed. He was a special person! Brenda Baxter (Harrisburg, PA)
---
Our deepest and sincere sympathy to the family in their hour. Dennis is remembered as a local celebrity, a thoughtful and generous man and friend to all he met. Dennis lived life and played hard. He will be missed…. Cynthia & John Zubritsky (Harrisburg, PA )
---
It is with a great deal of sadness that I contact you today. As you know Dennis was a good friend of mine and I believe that, along with George Betzler, he was the only persons I know who had as strong a passion for Rugby, Touring and making friends as myself. Dennis was funny witty man and was generous to a fault. When I was out coaching in Penn State in 1998, I was told there was an American coach coming along to the sessions. Imagine my surprise when I looked out the window and see this short, bandy guy coming up the path wearing a New Tredegar sweater. Yes, my old friend Dennis. When he came over for the World Cup in 1999, I gave him a ticket for the Final at the Millennium Stadium. He thought he had won the lottery. Whenever we shared a beer and chewed the fat over rugby, he would always have a funny story, a tale to tell or just go on and on and on etc., etc., about the tactical appreciation of the game. He wanted to learn so much about the game and pass things on to his beloved players at Harrisburg RFC.
I have just been reading all the tributes to him on your website and I would appreciate it if you would put some of my thoughts on there on my behalf and everyone at New Tredegar RFC. Only seems like yesterday we all met at the Club during your February Tour on that snowy Sunday. No game but a barrel full of laughs afterwards and some serious drinking going on. Later that week, down to a freezing cold Usk Rugby Club where once again we shared a pint or two.
Yes, I have many memories of Dennis and I can honestly say, every one was a good one. Please pass on my condolences to his Family and countless friends and when he is laid to rest, no doubt with a smile on his face, raise a glass for me and toast the life of a truly great Rugby man. Harrisburg Rugby will never be the same without him, and the whole world of rugby will be much the poorer for his loss.
Goodbye Dennis. Walk the touchlines of Heaven as you have trodden them on Earth. Ray Davies "Mulldoon" (New Tredegar RFC, Wales)
---
Thanks a lot for being so thoughtful and taking the time to email me the information and photos. Dennis was a real good guy. Ronnie "Elvis" Daniels (Harrisburg, PA)
---
We did not know Dennis. After reading some of the other entries here, he surely was a remarkable and extremely well thought of man. We are so sorry for your loss. You are all in our thoughts and prayers. Don and Margaret McCurdy (Harborcreek, PA)
---
Coach,
Even 20,000km away discussing the pros and cons of rugby by e-mail was as if I was sat next to you at the bar with a cold Guinness in hand. A real MATE, a true rugby fellow with a heart of gold. You are sadly missed. Steve Foster (Auckland NZ)
---
You will truly be missed, in rugby, as a friend. We had many a drunken day/night in all the times you stayed in Wales, always a pleasure. Cysgwch yn dawel. Mike Winstone (New Tredegar RFC, Wales)
---
Each and every one of you, are gentlemen in every sense of the word. But that is the essence of rugby. It is a gentleman's sport, above all others. In what other sport, do the players address the referee as "Sir"? In what other sport, is there displayed such camaraderie with the opposing side, even following the fiercest rivalry matches? Rugby players form friendships that last a lifetime, and then some. Sometimes, as a "rugby wife", I know that I don't embrace the game like you all do. But you have a special bond. It makes me a little jealous sometimes. Until something tragic happens. And then I am so thankful, and so proud of my husband, and the rest of you for being the best representatives of rugby that will ever walk the earth. Bless you all, Kris Lingle (Lebanon, PA)
---
I just wanted to say thank you once again to all of you who came up from Harrisburg you, Larry, Jamie, Harry, Bob, Joe, Sean, Bill and everyone else who came up should know it meant a lot to me and my family. I was touched by how many of you came up for Uncle Denny, they told us there were over 50 cars in the funeral procession and uncle Denny deserved it all. It was nice to finally put some faces to the names I have been hearing stories about for the past 16 years. Seeing you guys made me wonder why we ever worried about Denny being alone down there, when obviously he wasn't. I even heard one of my aunts say that my grandpa said that seeing all of you gave him one more moment to be proud to be Denny's father. So, I just wanted to thank you all once more because it really did mean a lot to me. Love, Krissy
---
I can't tell you how devastated I was when I got the email about Denny. I would like to come to Erie this weekend but Shawn and I are already going to Northern Virginia for my Uncle's 70th birthday. This is my Dad's twin brother so I am also celebrating what would have been my Dad's 70th birthday. Please pass along my condolences to Denny's family and tell the guys that I am thinking about them at this difficult time. Eric McGee
---
"My name is John McGuire and Dennis was my Uncle. This past weekend, the number of rugby players that made the long trip from Harrisburg was inspiring. It meant a great deal to me and my family. Also, I feel like I may have gained a few more Uncles in the process. Denny can never be replaced, but the slack may have been picked up. I wish everyone the best of luck in future endeavors and also hope to see you guys again, but on a happier basis. Thanks again guys. I now know that Dennis was in great company in Harrisburg…John McGuire"
---
Ah, Dennis. I remember disagreeing with you about rugby's details back in '76 when you played for WVU and I played for IUP. We disagreed about little things all the time we coached Harrisburg. How I was looking forward to arguing with you again this Thanksgiving when I'm back in Harrisburg. But you done gone on to the great Scrum in the sky, or wherever good ruggers go, maybe New Zealand. Godspeed. See you on the other side, my great friend. Wade Edris Coach, Harrisburg RFC '86-'91
---
Dennis was a treasure to his friends and to the sport of rugby. I had the pleasure to bump into him in North East about once a year, and it always made me happy. Pat Coyne Connecticut Yankees RFC
---
I speak for Shippensburg Rugby and Johnstown Rugby when I say that Dennis Shade was a good guy, everyone liked him. When I was a freshman at Shippensburg, he volunteered two weekends of his time to come up and give us free clinics. That really helped a lot of guys learn the game. The last time I talked to Shade, he was recruiting a 5-year old spectator at the Carlisle game. We just won the biggest game of the year and everyone was celebrating but Shade went out of his way to talk to the little kid and hype the game of Rugby to him. Zachary Khuri
---
I had the opportunity to play with Dennis during my last few years with Harrisburg. He lived, breathed and bled rugby. His worldwide experience was always a great source of entertainment. He will be sadly missed by all of his family including his extended rugby family. Randy Nolen
---
'Sadly I only knew Dennis far too briefly, a mere 4 months, but in that time we shared a enough beers frequently corresponded via e-mail to the point I considered him friend. He was the man who convinced me to come out to practice for Harrisburg Rugby Club (instead of Old Garlic) despite two bad knees and far too many years since the last I played. This persuasion, may I add was via e-mail. Upon first meeting him in person, he came across as hyperactive and rough around the edges with a touch of Tourrete's. It didn't take long for that first impression to melt away during our first post-practice beer together. It was evident that his energy was rich with enthusiasm for the game. His rough edges were more than smoothed over by the obvious deep caring possessed for each player. His occasional bouts of 'Tourrete's', like a proud father, a result of his sincere belief that his team could always push themselves harder to reach an as of yet unfulfilled potential that, if no-one else, he was able to see. I'll miss your rugby war stories Dennis. Stephen Rzonca
---
My heart goes out to all of you in the Harrisburg Rugby Community. Dennis was as good a friend as anyone could ask for, and I always looked forward to spending time with him when he came home to Erie for a visit. I have known Dennis since I started playing rugby in 1983, and we soon became close friends. He would always make time to visit with my kids and to chat with my wife. As adults my kids still remember some of the early days spending time with him and always looked up to him. They are proud to be a part of the rugby community I feel, in large part due to the influence that he had on them. His contribution to the general rugby community is unmatched by anyone I have met. His passion for the game obviously does not need to be said. The many kind words that I have read only strengthen the love that I have for him. I share your feeling of loss. I have added the words to our club song below. It is a song that I feel embodies the spirit of Dennis and even mentions him by name. The closing verse is also quite appropriate for what we are experiencing with his loss. To those of you who are coming to Erie for Dennis' funeral, I look forward to sharing stories and having a few pints together. If any of you would like to stay in my home, you are more than welcome to. I have space for four or five guys, and my son indicated that he has room for three. My home is your home. Cheers.
Erie Back Line
Come all ye young ruggers so young and so fine
Seek out your fortune in the Erie back line
It will form as a habit and seep into your soul
Till the blood in your veins runs as black as the coal
(chorus)
For its dark as a dungeon and damp as the dew
Danger is double and the pleasures are few
Where the rain never falls and the sun never shines
It's dark as a dungeon in the Erie back line
Well there's many a man I've seen in my day
Scrum down and fly hack their whole lives away
Like Dennis with his dope and Itchy with his wine
A man will have lust for the Erie back line
(chorus)
For its dark as a dungeon and damp as the dew
Danger is double and the pleasures are few
Where the rain never falls and the sun never shines
It's dark as a dungeon in the Erie back line
Now as I grow old and the ages shall roll
My body will round up into a rugby ball
And as I look down from my heavenly home
I pity the rugger a ruckin my bones
(chorus)
For its dark as a dungeon and damp as the dew
Danger is double and the pleasures are few
Where the rain never falls and the sun never shines
It's dark as a dungeon in the Erie back line
Jack Jaeger
---
I talked to Patrick and he is also devastated by the news. The kids respected Dennis and really really like him as a person. You could tell how much he also enjoyed the kids. He embraced life and I am so glad Patrick got to know someone like him. I'm so sorry for your loss of such a good friend. Donna M Kumpf, M.S., CCC-SpL
---
Dennis, you and the guys at Harrisburg RFC welcomed me into the club without hesitation. The enthusiasm with which everybody approached all aspects of the game truly amazed me. We had some great discussions on rugby matters and how the game should be played from All Black to Harrisburg to Ship Women. We had our agreements, disagreements but whatever the outcome it never ended in tears; usually beers! I knew Dennis both as a player and as a coach and as someone whose knowledge of and enthusiasm for the game was both boundless and infectious. I became a better player through Dennis, but an even better coach because of Dennis. His love of the game rubbed off on me and is something that I have tried to pass on to my players as he has done for some many us.
He was generous with his time and knowledge in regards to the game of rugby, but was also a warm and friendly gentleman everywhere else. As infectious as his love for the game was, his love of life and for all his friends and family was a light that cannot be extinguished even in the darkest of moments. I shared a pint or two with Dennis on many occasions. If my wife was not with me, his first question to me was always "How's Rebecca doin'?" and he always ended our encounters with "Say hi to Rebecca."
We will dearly miss Dennis, as will many, many others. Tony and Rebecca Hackett
---
Dennis your a true gentleman and I'll never forget our friendship and was already planning for your trip to NZ for the 2011 Rugby World Cup. I treasure the time I had in Harrisburg and I feel privileged to have met such an open and honest guy.
Farewell Coach, you are already missed. Steve Foster
---
My Sincerest Condolences, Peter Frost
---
Dennis, you will be with me forever,you left a mark in my life that will never be forgotten. You said you needed some "big bastards" to come out for rugby so I did and I thank you for that. You taught me the game of rugby and showed me how to have fun playing the game.I will miss you always asking "which girl are you with this time Autumn or Jeana"lol. Well all three of us are going to miss you. Rest in peace coach. Thank you for everything. Bob Gaus
---
Coach, I took this Fall season off to heal up some wounds and get ready for the Spring. I had (and still have) no plans to hang up the boots. I thought I would just do what I can for the club now and then come back out for practice in February's cold and snow to see you with your Harrisburg Rugby beanie hat and and hear that whistle and your voice telling someone(usually me) to do something different (which usually meant the proper way)in your oh-so-kindest voice. As hard as it it to come to grips with, I know that it is not going to happen. I only knew you for three short years but in that time you showed me that there is not another person on this Earth with more love and compassion for the game we play, the great game of rugby. You did everything in your power to spread your love and knowledge of the game to everyone around you. You did everything you could to make all of your players better, and not just at the game you cared so much about. You will be missed on the field during practice and on the sidelines during games. You will me missed at TJ's by your players' families with whom you would chat and make feel welcome. You were one-of-a-kind, Coach. As I say goodbye for now Coach, I will answer the question that you would ask if you were here today,"Ashley is doing great, and I will tell her that you said hello." See you someday again, Coach. Chuck Herling, HRFC, Captain 04-05